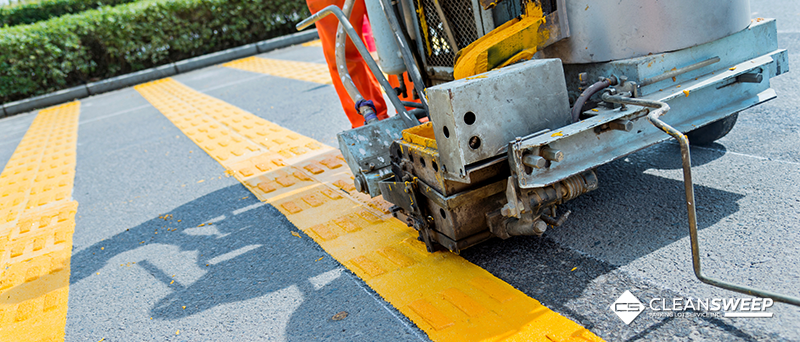 Line Painting

---
Keep your Calgary parkade, parking lot, or warehouse looking crisp and clean with our expertise in line painting. As the first thing your customers encounter, parkades and parking lots are your first chance to make a good impression on them. By keeping the lines within them visible and clear, you'll also ensure your parking lot, parkade, or warehouse is as safe and organized as it can be.
Request a FREE Quote
---
The lines within your parking lot, parkade, or warehouse are extremely important. They provide the structure and order that's necessary to navigate these spaces. If your lines are starting to look a little worse for wear or are beginning to fade, as most in Calgary tend to do, we can expertly paint new ones using a product that's hardy and long-lasting. We also have multiple marking crews that allow us to tackle multiple locations at once, making sure your line painting project is finished on time and on budget.
We Paint More Than Just Lines
If you need custom stencilling work done in Calgary then Clean Sweep is who you need to call. Custom stencilling is a great way for you to put your own mark on your building, parkade, parking lot, or warehouse. By branding your property or space in this way, you're sure to make an impression on any customers or tenants who come across it. We can design stencils in the style of your logo, or any other designs or ideas that you can think of.

Make Your Parking Lot or Parkade Safe and Avoid Annoying Door Dings With Clearly Visible Lines
From a very young age, we all learned the importance of staying within the lines. But what happens when you can't see the lines? Chaos ensues, that's what. By providing your customers, tenants, or residents in Calgary with clearly visible straight lines to guide their navigation and parking attempts, you'll know you've done everything you can to make your parkade or parking lot as safe as it can be. You'll also avoid the nasty situation of having a customer, resident, or tenant coming to you and complaining about the recent door ding they endured due to the faded lines within your parking space. And if you have a warehouse, easy to see lines can help keep your workers safe and make your space better organized.
We Work Around Your Schedule to Minimize Disruption
We know that the biggest logistical headache surrounding line painting has to do with the disruption it causes. Where are your customers or tenants going to park while it's getting done? What will my workers do while it's happening? That's why we work with you and around your schedule to figure out the most convenient time to execute our Calgary line painting services, so it causes the least amount of disruption to your business or building. We also use multiple marking crews to get the job done as quickly and efficiently as possible, so you can get back to business right away.
Ready for your FREE Quote?
If you're looking to spruce up your warehouse, parkade, or parking lot with our power sweeping, power scrubbing, or line painting services, call us at (403) 769-9052 or fill out the form below to get your FREE quote today.