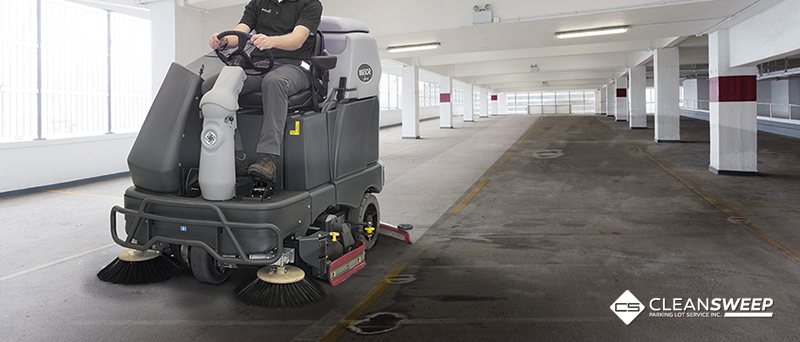 Power Scrubbing

---
Keep your parkade or warehouse looking presentable and polished with Calgary's best power scrubbing service. The amount of oil and gunk that builds up in parkades or warehouses in Calgary due to our harsh weather can have a negative impact on your business and bottom line. Let your customers or workers know that you value them by keeping your space clean and the air inside it breathable.
Request a FREE Quote
---
If the flooring in your Calgary warehouse or parkade has lost its lustre and is starting to show its age, our power scrubbing service can bring it back to life. During the winter months, things like gravel, salt, and dirt quickly accumulate in parking lots and parkades. If spring is finally here and you want to leave winter (and everything it brought with it) behind for good, call us today so we can put our power scrubbing expertise to work for you and your property.
Make Your Warehouse or Parkade Presentable Again
Our industry-leading power scrubbers can remove even the most stubborn of stains. Oil, dirt, grease, or grime — none are a match for the tools we have at our disposal. Our highly trained operators can make quick work of the mess that's built up on the floors of your property, and return them to their initial state.

Put Your Best Foot Forward With New Customers or Clients
You may think that the first impression you make on a new customer or client happens when they meet you, but that's not the case. The first thing they see or encounter when coming on your property by way of a vehicle is your parkade or parking lot. If it looks dingy or dirty, they're sure to notice. The same can be said for your warehouse. By regularly cleaning these spaces with our power scrubbing service, you'll be putting your best foot forward anytime someone new steps onto your property.
Fast, Efficient, Reliable, Fair
Clean Sweep can be counted on to clean your space with our power scrubbing service quickly and efficiently. We work with you to minimize the amount of disruption our cleaning services cause, and only use the most reliable and effective power scrubbing machines so you don't have to worry about any hiccups along the way. You'll also find that our prices are fair and competitive after shopping around.
Ready for your FREE Quote?
If you're looking to spruce up your warehouse, parkade, or parking lot with our power sweeping, power scrubbing, or line painting services, call us at (403) 769-9052 or fill out the form below to get your FREE quote today.