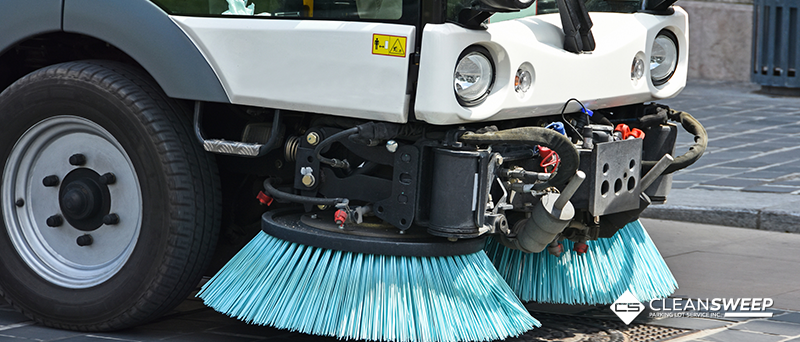 Power Sweeping

---
Keep your Calgary parking lot or parkade looking immaculate with our power sweeping service. Using the best tools and technology in the trade, we can gather up all the debris and trash that's accumulated along the curbs and edges of your parking lot or parkade and leave them looking spotless. Clean Sweep can provide this service at a moment's notice, and can tackle multiple lots within a single evening if need be.
Request a FREE Quote
---
Regularly sweeping your parkade or parking lot will help keep it intact much longer than if you were to ignore this important part of your property's maintenance. Gravel and debris can cause the concrete or asphalt to degrade much quicker if left unchecked, and if you have a parkade, the air quality inside it can become quite unpleasant. Our fleet of power sweeping machines and highly trained operators can make quick work of even the most neglected spaces, so call us today to get your free quote and let's get the ball rolling on your power sweeping project.
Quickly Say Goodbye to Gravel and Winter Debris
Another brutal winter is in the books for Calgary and your parking lot or parkade is carrying all the evidence of that. All the gravel and debris that your customers, tenants, or residents dragged in with their vehicles over the last few months is just sitting there, cluttering up your property's space in an unsightly manner. If you need it gone fast before people start complaining, reach out to us and we'll put our industry-leading power sweepers and highly trained operators to work to tackle the problem efficiently and effectively. It'll all be gone before you know it.

Breathe Easier and Better
We've all walked into a parkade before and had that visceral reaction to the unpleasant smell that accompanies old dusty gravel and debris. If you own a business or building in Calgary, it's the last thing you want to welcome a new customer or tenant with. By enlisting our power sweeping services you can make sure the first impression you make on people is a positive one, by helping them breathe easier and better the moment they exit their vehicle.
We Don't Leave Anything Behind
Once we've swept all the gravel and debris up we pack it up with our equipment and dispose of it ourselves. The only thing you'll be left with is a super clean parking lot or parkade. There's absolutely no hassle or worry on your part. Just a beautifully clean space for you and your tenants, customers, or residents to enjoy.
Ready for your FREE Quote?
If you're looking to spruce up your warehouse, parkade, or parking lot with our power sweeping, power scrubbing, or line painting services, call us at (403) 769-9052 or fill out the form below to get your FREE quote today.