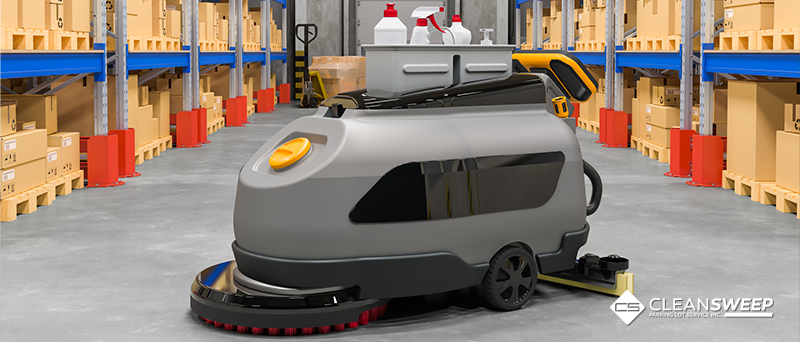 Warehouse Cleaning

---
Clean Sweep has been providing comprehensive and tailored warehouse cleaning services in Calgary for more than 10 years. With our advanced equipment and experienced technicians, we can minimize the disruption caused to your business and make your warehouse safer for your employees. Whether you need grease or oil spots cleaned up or your walls and windows need treatment, Clean Sweep has you covered with our power sweeping, power scrubbing, pressure washing, and line painting services.
Contact us today to get your free quote and to find out more about how we can help keep your warehouse in tip-top shape all year round.
Request a FREE Quote
---
Keeping Your Warehouse Hazard-Free and Clean
Our warehouse cleaning services provide industrial solutions to industrial problems. Trusting Clean Sweep to take care of the cleaning for your warehouse, distribution centre, logistics facility, or manufacturing plant will ensure your important work is kept on schedule so you can deliver on your promises and meet your deadlines.
Facilities such as warehouses come with their own unique cleaning needs. No one knows this better than we do at Clean Sweep. Our team works hand-in-hand with your business to help minimize worker interruptions and we can tailor our cleaning schedule to meet any needs you may have.
Our company is fully licensed, bonded, and insured.
Our contracts are committed to providing value to your company and are completely transparent with no hidden fees or surprises. All our employees also undergo extensive training before ever being assigned to a job, and their work is continually monitored and evaluated to ensure excellence.
Our warehouse cleaning services include:

Everything You Need to Keep Your Warehouse Clean, Organized, and Safe
With our comprehensive warehouse cleaning services, we have every aspect and facet of your building covered. From one-off cleaning requests for specific spills to regularly scheduled cleaning services, Clean Sweep has the capabilities and well-trained staff you need to keep your warehouse clean, organized, and safe for your employees.

Power sweeping
If you need to quickly get rid of any dust or debris that has accumulated on your warehouse floor, our industry-leading tools and technology can sweep it away in a flash. Not only will your employees lower their risk of slipping while walking through the warehouse, but they'll also be able to breathe easier too.
---
Power scrubbing
Get rid of gunk or oil and grease stains on your warehouse floor with our industrial power scrubbing. We can have your warehouse floor looking highly polished and brand new again while minimizing worker interruptions and disruptions to your business through our accommodating scheduling.
---
Pressure washing
Nothing blasts away hard-to-remove stains quite like pressure washing does. If your warehouse or industrial shop needs its equipment, doors, walls, or floors pressure washed right away, we can dispatch multiple crews to complete the job all at once so your operations are barely impacted.
---
Line painting
The lines within your warehouse, distribution centre or manufacturing plant are vital to worker safety and organization. If you have a new facility that needs expert line painting, Clean Sweep can deploy our talented line painters in crews so the job is done quickly, allowing you to move on to the next part of your set up plans. And if your old lines are beginning to fade or disappear, we can repaint them just the way they were or we can provide tips about how you can maximize the organizational effectiveness of your warehouse.

Helping Maintain Your Warehouse So It Lasts for Years to Come
By engaging Clean Sweep to regularly service your warehouse or industrial facility, you can avoid costly repairs or overhauls by keeping your equipment and building in good shape. No matter what needs to be cleaned or treated, we have the ability and staff to do it in a timely manner and at a fair price that adds value to your organization. Your warehouse is vital to the success of your business, make sure it's properly cared for by hiring the experts who have extensive experience with the unique needs that warehouse cleaning brings with it.
Be sure to contact us today to get your free quote and to learn more about how Clean Sweep can keep your warehouse or industrial facility in the best condition possible.
Ready for your FREE Quote?
If you're looking to spruce up your warehouse, parkade, or parking lot with our power sweeping, power scrubbing, or line painting services, call us at (403) 769-9052 or fill out the form below to get your FREE quote today.